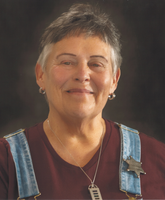 Christine "Tirelady" Ann "Tirelady" Croucher
Tirelady
Christine Ann "Tirelady" (Wolfe) Croucher, 69, of Masontown, WV, passed away peacefully on Wednesday, March 01, 2023, at Ruby Memorial Hospital in Morgantown, WV, with loved ones by her side.
Tirelady was born in Mount Lebanon, PA on November 03, 1953, the daughter of Clifford Wolfe, Sr., and Thelma (Gallo) Taft.
Tirelady was the owner of Tirelady's Rainbow Tire, serving the Masontown and Morgantown communities for over 40 years. Some of her greatest gifts were her selfless contributions to the community and dedication to her employees. Her business became a way of welcoming people from all walks of life, as she embraced and mentored them with no judgement and unwavering support. Among her many hobbies, Tirelady was an artist and an avid writer. She enjoyed spending time reading, traveling, and the occasional recreational relaxation. The world does not yet know what it has lost – Tirelady will be missed far and wide, but her legacy will live on, as we remember her warm smile, wicked wit, foul mouth, with her kindness and generosity all wrapped up in her blue-jean overalls, red bandana, and sheriff's badge.
Tirelady is survived by her companion, Nina Clovis; her son, Michael Croucher; brother, Clifford Wolfe, Jr. (Debra); three bonus grandchildren, Ava, Jackson, and Callie; long time bosom buddies, Ruthie Adams and Michael Beto; the millions of friends and colleagues turned family members; and her beloved dog, Remy. And, "against all odds, we'll see her again a'sittin' on that rainbow."
In addition to her parents, Tirelady was preceded in death by her brother, Thomas Wolfe.
Friends may call at the Masontown Fire Hall on Rt 7 Masontown, WV for a casual celebration of life service on Saturday, March 11, 2023 at 1 pm. Visitation with family and friends to follow in which guests are encouraged to come prepared with favorite memories of this one of a kind friend to all.
If you wish to send flowers they will be appreciated or in lieu of flowers, donations in memory of Tirelady may be sent to, Preston County Animal Shelter, 278 Poor Farm Road, Kingwood WV 26537 or Arthurdale Heritage, Inc., PO Box 850, Arthurdale, WV 26520.
Condolences may be extended online at www.fieldfuneralhome.com.