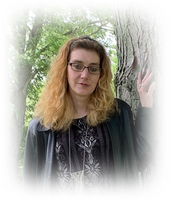 April Lynn Cress
April Lynn Cress, 41, of Morgantown, formerly of Masontown, was reunited with her parents on Saturday, February 11, 2023.
April was born in Morgantown, on May 20, 1981, a daughter of the late Jason Ray "Butch" Cress Jr. and the late Sharon Sue (Austin) Cress.
April left an impression on many lives. She was a free spirit who was thankful for every day, loved and lived life, enjoyed cooking meals for others, going on adventures, and experiencing new things. She appreciated the small things in life that money couldn't buy, a beautiful sunset, a beautiful bright moon, and a clear blue sky. Most of all she adored and loved her cats, her family, and friends who she deeply cared about and had touched her life.
April is survived by her brother, Jason Cress III and wife Carrie of Reedsville; niece, Katelynn Strahin; nephew, Garrett Strahin; many aunts, uncles, cousins, and many friends who meant the world to her.
In addition to her parents, April is preceded in death by her grandparents, and special friends, whom she is now with once again.
To honor April's wishes the Field Funeral Home in Masontown will provide cremation services. A celebration of her life will be held at a later date. Inurnment will take place in the Mt. Zion Cemetery.
Donations may be made to Field Funeral Home in honor of April's memory at 10537 Veterans Memorial Highway, Masontown, WV 26542.
Condolences may be extended online to the family at www.fieldfuneralhome.com.