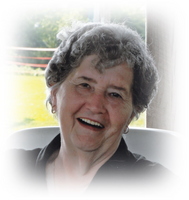 Lou Amma Joy Menear
Lou Amma Joy Menear, 87, of Kingwood, WV, passed away Monday, February 13, 2023, at Stonerise of Kingwood.
She was born in Richard, WV on July 19, 1935, a daughter of the late Charles Kermit and Irene Katherine (Jefferies) Greathouse.
Lou Amma was a loving wife, mother and grandmother. She and her husband, Robert enjoyed spending time together in the outdoors. Lou Amma was a member of the Free Methodist Church in Kingwood. She enjoyed listening to gospel music and singing.
Lou Amma is survived by her loving husband of 67 years, Robert Menear; one daughter, Robin Anderson of Kingwood; one son, Michael Menear; two grandsons, Cody Anderson and Michael Menear Jr.; one niece, Linda Shrout and one nephew, Gary Garlitz.
In addition to her parents, she was preceded in death by her twin brothers, Kenneth (Kenny) Kay Greathouse and Kermit Ray Greathouse and one sister, Louise Katherine Garlitz.
Friends may call at the Field Funeral Home in Masontown on Thursday, February 16, 2023, from 2 to 4 and 6 – 8 pm. A funeral service will be held at the funeral home at 1 pm on Friday, February 17, 2023, with Pastor Sam Moon officiating. Interment will follow at Maplewood Cemetery in Kingwood.
Condolences may be extended online to the family at www.fieldfuneralhome.com.