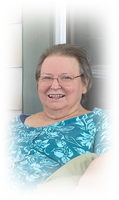 Connie Louise Ault
Connie Louise Ault, 68, of Masontown, WV, passed away Sunday, October 9, 2022, at WV Caring in Elkins.
She was born on May 30, 1954, in Morgantown, WV, a daughter of Alexander Joseph and the late Hazel Mae (Trickett) Sobol.
She is a graduate of Valley High School, a former member of the Masontown Fire Auxiliary, and a member of the St. Zita Catholic Church. She loved gathering with friends and family and having a good long conversation. Connie was also a proficient artist who enjoyed to paint. She loved spending time with her nieces and nephews and great nieces and nephews who lovingly called her "Grandma Connie."
In addition to her father, Connie is survived by her husband, William David Ault; two sisters Donna Montgomery and husband Danny of Masontown, and Susie Braham of Reedsville; one brother-in-law, Lew Ault and wife Donna of Reedsville; nieces and nephews Danny Montgomery, Matthew Montgomery, Lori Dalton and Rustin Ault and wife Tiffany; great nieces and nephews, Korbin Green, Alexander Montgomery, Jeremiah Montgomery, Edward Montgomery, Layla Mae Montgomery, Calob Dalton, Jak Green and Ian Ault.
Friends may call at Field Funeral Home in Masontown on Friday, October 14, 2022, from 1 p.m. until the funeral liturgy outside of Mass at 4 p.m. with Father Biju Devassy as celebrant. Interment will follow at Masontown Cemetery.
In lieu of flowers, donations may be made in honor of Connie to West Virginia Caring at P.O. Box 760 Arthurdale, West Virginia 26520. Condolences may be extended online to the family at www.fieldfuneralhome.com.