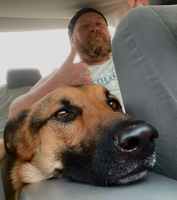 James David Clark
James David "Jimbo" Clark, 46, of Reedsville, WV, passed away unexpectedly on Saturday, June 18, 2022, due to an ATV accident.
He was born in McKeesport, PA on April 8, 1976, a son of Fred and Nancy (Hurst) Clark of Reedsville.
Jim was a loving father, son and friend. He was known and loved everywhere he traveled. All his friends described Jim as a rough man with a heart of gold. He enjoyed fishing and the outdoors. Jim loved spending time with his family and his German Shephard, Zena.
In addition to his parents, Jim is survived by his son, Dakota James Clark of Reedsville; two daughters, Sydney Clark and companion Timothy DeNofrio of Boston, MA and Hannah (Clark) Butela and husband Ryan of West Newton, PA; two sisters, Bonni Leigh (Clark) Robinson and husband Richard of Grafton, WV and Carol George of Largo, FL and his nieces and nephews, Joe, Michael and Nathan George and Emily and Megan Prince and their families.
He was preceded in death by his grandparents, Harold and Mary Clark and Thomas and May Hurst.
To honor Jim's wishes cremation services will be provided by the Field Funeral Home in Masontown and there will be no public services held.
Condolences may be extended online to the family at www.fieldfuneralhome.com.