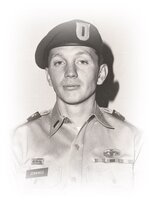 Cpt. Jesse A Jennings USA, Ret.
Cpt. Jesse A. Jennings USA, Ret., 81, of Tunnelton, passed away Wednesday, November 24, 2021, at Preston Memorial Hospital.
He was born in Evansville, WV on March 23, 1940, a son of the late Maurice and Doris (Mace) Jennings.
Jesse was a loving husband, father, grandfather, great grandfather, and a great great grandfather. He was a 1958 graduate of Fellowsville High School and graduated from WVU with a bachelor's degree in Agriculture Business. Jesse served in the US Army and retired as a Captain upon completing 20 years of service. During his life he served Preston County as a commissioner and served on the Preston County Board of Education. He also worked for the WV Department of Agriculture, Mangus Coal Company and ran his family farm, 4-J Farms. He also was a leader of the Fellowsville Boy Scout Troop.
Jesse is survived by his loving wife, Joyce M. (Morris) Jennings; children, Rocky Jennings and wife Peggy of Evansville, Jessica Jennings of Tunnelton, Jesse "Jay" Jennings, II of Fellowsville, and Jarrett Jennings and wife Jennifer of Fellowsville; one brother, Dorris Rolland "Bucky" Jennings and wife Evelyn of Newburg; 12 grandchildren; 23 great grandchildren; one great great grandchild and three sisters in law, Eleanor Jennings, Iris Jennings and Patricia Jennings.
In addition to his parents, he is preceded in death by four brothers, Maurice "Foster" Jennings Jr., Timothy Jennings, Ralph Jennings, and Alden Jennings.
Friends may call at the Field Funeral Home in Masontown on Saturday, December 4, 2021, from 2 pm until 7 pm. and on Sunday, December 5, 2021, at the Mt. Israel United Methodist Church in Fellowsville from noon until the 1pm service time with Rev. David Murray and Charles Nestor officiating.
Military rites will be conducted by the Preston County Honor Guard and the WVANG Honor Guard.
In lieu of flowers, donations may be made to the Mt. Israel United Methodist Church, c/o Phyllis Knotts, 19 Fire Dept. Loop, Tunnelton, WV 26444.
Condolences may be extended online to the family at www.fieldfuneralhome.com.