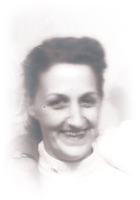 Erma Lee Shrout
Erma Lee Shrout, 92, of Arthurdale, passed away Tuesday, July 6, 2021, at Stonerise Nursing Home in Kingwood.
She was born in Kingwood, WV on October 22, 1928, a daughter of the late Robert and Sarah Elizabeth (Britton) Gribble.
Erma was a loving mother, grandmother and great grandmother.
She is survived by two sons, Terry Lee Shrout of Morgantown and Charles Wallace Shrout of Arthurdale; several grandchildren and great grandchildren.
In addition to her husband, Harvey Ralph Shrout, Erma was preceded in death by a daughter, Florence Elizabeth Shrout Chedester and two sons, Thomas Allen Gribble and Harvey Ralph Shrout Jr.
Friends may call at the Field Funeral Home in Masontown on Saturday, July 10, 2021 from 11 am until the 1 pm service time with Pastor William Winston officiating. Interment will be in Arthurdale Cemetery.
Condolences may be extended online to the family at www.fieldfuneralhome.com.