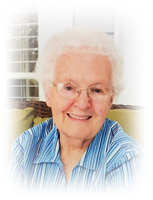 Betty Chole Dudley
Betty Chole Dudley, 89, of Kingwood, passed away, Monday, March 11, 2019 at Preston Memorial Hospital .
Betty was born in Masontown, WV on February 26, 1930, a daughter of the late Harvey McMillen and Hesper (Luce) McMillen Taylor.
She was a 1948 graduate of Masontown High School and worked as a certified home health aide at Preston Memorial Hospital for many years. She had a special sparkle and brought joy to everyone she met.
Betty is survived by her daughter, Diane (Dudley) Mayer of FL; four grandchildren; two sisters and two brothers.
She was preceded in death in 2007, by her husband of 56 years, Ralph L. Dudley; a son, Ralph J. Dudley; a son in law, Jeffery Mayor; two sisters and three brothers.
A memorial service will be held at a later date.
Condolences may be extended online to the family at www.fieldfuneralhome.com.