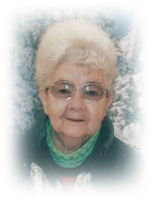 Marcelle Suzane Titchnell
Marcelle Suzanne Titchnell, 88, of Morgantown, passed away February 25, 2019 at Sundale Nursing Home in Morgantown.
She was born in France on March 1, 1930, a daughter of the late Louis and Marguerite Augustine (Gouerand) Barbier.
She was a loving mother and grandmother. Marcelle attended the Church of God in Mount Pleasant, PA and was an avid animal lover.
She is survived by a daughter, Susan Dalton and husband Donald of Morgantown and several grandchildren and great grandchildren.
In addition to her parents, she was preceded in death by her first husband, Wayne McMillen; her second husband, James Titchnell and a daughter, Marguerite Ridenour.
Friends may call at Field Funeral Home in Masontown on Wednesday, February 27, 2019 from 2 to 9 p.m. Services will be held at the funeral home on Thursday, February 28, 2019 at 1 p.m. with Pastor Paul Prinkey officiating. Interment will follow at the Mt. Zion Cemetery in Masontown.
Condolences may be extended online to the family at www.fieldfuneralhome.com.