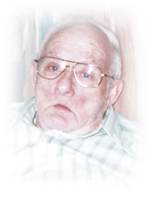 Herbert Lee Wolfe
Herbert Lee Wolfe, 91, of Tunnelton, WV, died peacefully on Sunday, January 27, 2019 at the West Virginia Veterans Nursing Facility in Clarksburg with family by his side.
Herb was born April 26, 1927, in Newburg, a son of the late John Martin and Arizona Elizabeth (Bowman) Wolfe.
Herb, known as "Tinker" for his uncanny knack for engine repair, honorably served his country in both World War II and Korea. Following his service in the United States Army, he worked in various capacities in the coal mines and sawmills and, for a time, operated his own saw mill.
On July 29, 1954, "Tinker" wed Iva Loretta Detrick, with whom he shared over fifty-six years of marriage, love and laughter until her passing on March 17, 2011. Together, they raised and cared for their family from their small country home on Ken Snyder Road and enjoyed the simple and beautiful things of life, from birthdays and anniversaries, to Christmases and family dinners. The Wolfe family knew the meaning of hard work and embodied country living.
Upon retirement, Tinker could be found out in the woods hunting ginseng and mushrooms. Many people affectionately referred to him as "Pappy" because of his kind and grandfatherly nature. He was a member of the Fort Butler VFW Post #826. He was Pentecostal by faith and now rests easily in the Lord's abiding care.
Surviving is one son, Lenny Wolfe, of Morgantown. He is also survived by two brothers, Paul Wolfe (Sue) and Arthur Wolfe (Arlene), all of Tunnelton; two sisters, Virgie McGill of Tunnelton and Pauline Thorn of Morgantown and many nieces and nephews.
In addition to Iva, the love of his life, he was preceded in death by two brothers, Sherdon and Leonard Wolfe and three sisters, Irene Beveridge, Ella Beveridge and Laura Beveridge.
Friends may call at the Field Funeral Home in Masontown on Tuesday, January 29, 2019 from 2-8 p.m. and Wednesday, January 30, 2019 from 11:00 am until 1:00 p.m. service time with Pastor Barbara Hamrick officiating. Interment will follow in the Blackwood Cemetery in Newburg. Military rites will be conducted by the Preston County Honor Guard and the WVANG Honor Guard.
The family would like to extend special thanks to Dr. Dev at the VA Hospital in Clarksburg; Dr Hill and the first and second floor staff at the WV Nursing Facility in Clarksburg; Amedysis Hospice; Luke Massey for his kindness and friendship; Pastor Barbara Hamrick and Zoar House Of Prayer and Jerry Field and staff at the Field Funeral Home.
Condolences may be extended online to the family at www.fieldfuneralhome.com.