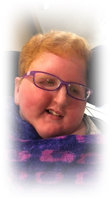 Madison R "Maddie" Cale
Madison Rachelle Cale, 10, of Kingwood, passed away Wednesday, January 23, 2019, in the arms of her loving mother and sister.
Madison was born in Kingwood, on June 8, 2008, a daughter of Stacy Metz and Dan Roberts of Kingwood and John Cale Jr. and wife Amy of Buckhannon.
Maddie had an infectious smile that brought joy to everyone who knew her.
In addition to her parents, she is survived by her brothers and sisters, Haley Cale, Jordan Roberts, Katelyn Roberts, Autumn Hatfield and Tucker Hatfield; grandparents, Henry and Lucy Metz, Carolyn Cale, Deborah and Kevin Mowrey and Roberta Poling; aunts and uncles, Bev and Chris Collins, Kim and Scott Weaver and Hillary Cale and several cousins.
She was preceded in death by her grandfather, John Cale, Sr.; great grandparents, Buck and Mary Jo Collins and Delbert and Maxine Metz.
Friends may call at the Field Funeral Home in Masontown on Friday, January 25, 2019 from 2-4 and 7-9 p.m. Funeral services will be held 9 a.m., Saturday, January 26, 2019 at the Field Funeral Home with Pastor Marty Turner officiating. Interment will follow in the Maplewood Cemetery in Kingwood.
The family would like to extend special thanks to the WVU PICU team for all of the care and love they gave Maddie over the years. Also, to all of the home health nurses who took great care of her.
Condolences may be extended online to the family at www.fieldfuneralhome.com.