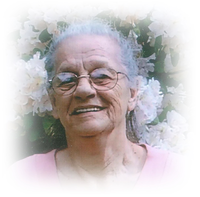 Doris M Roby
Doris M. (Turner) Roby, 83, formerly of Champion, OH, went home to be with her Lord on Sunday, December 23, 2018, while living in Tioga, ND.
Doris or "Dab", as many in the Turner family knew her, was born June 23, 1935 in Masontown, WV, a twin daughter of the late Fred and Pluma (White) Turner.
She worked for many years as a nurse's aide at Washington Square Health Care Center and St. Joseph's Hospital in Warren, OH.
Doris was married to James R. Roby, Sr. for nearly 47 happy years until his death in 2002.
She enjoyed doing many things with her family and friends, including singing, especially the songs "Take Me Home Country Roads" and "You Are My Sunshine". She also enjoyed playing cards, board games, bowling, crocheting, gardening, and reading westerns. She had a special gift for loving her neighbors.
Doris leaves her memory to be cherished by her sons, James R. (Rosemarie) Roby, Jr., and Mark A. Roby, both of Champion, OH; and her daughters, Verna (Richard) Wightman, of Tioga, ND, and Shela Cykon, of Jacksonville, FL. She will also be remembered by a brother, Alex "Buck" Turner, nine grandchildren, twenty great grandchildren, one great great grandchild, and numerous nieces and nephews.
In addition to her husband and parents, Doris was preceded in death by her sisters, Rilla, Pluma Ann, Shirley, Dorothy, and Rosalea; and brothers, Bob, Roy, Kramer, Herbert, John, Fred Jr., and Raymond.
Friends may call at the Field Funeral Home in Masontown, WV, on Saturday, January 26, 2019 from 11 am until the 1 pm memorial service celebrating Doris's life with Rev. G.E. McCabe officiating. Inurnment will take place in the Mount Zion Cemetery in Masontown, WV.
The family would like to extend special thanks to Doris's granddaughter, Melissa Roby and her family for all of the loving care they gave to her in Palm Coast, FL, during her courageous battle with Alzheimer's disease. We rejoice together knowing that her memory is now completely healed in Heaven.
In lieu of flowers, memorial donations can be made in Doris' memory to the Mt. Zion Cemetery Association, c/o Mike Turner, P.O. Box 57, Masontown, WV 26542.
Condolences may be extended online to the family at www.fieldfuneralhome.com.