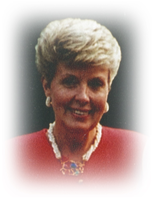 Gail Yost
Heaven received a special angel, J. Gail (Cress) Yost, 77, of Tyrone Road, Morgantown on Sunday, December 30, 2018 at her home with her husband Jack by her side.
Gail was a loving daughter. She was born on September 24, 1941, the first of five children of the late Lawrence "Dutch" Cress and Georgia (Molisee) Cress.
She graduated from Valley High School in Masontown in 1959 and Morgantown Beauty School in 1960. She was a beautician for 20 years having owned and operated "Gail's Beauty Shop" on Tyrone Road. Gail and her sister Debby then started the Diet Center of Morgantown and two Pittsburgh locations. She was a diet counselor at the center for 14 years. She then retired to spend her winter months with her husband Jack in Winter Haven, FL for the last 20 years.
Gail was very talented in all of her hobbies, which include gardening, crafts, sewing and painting but most of all, she enjoyed spending time with her family; especially her two sons, of which she was so very proud.
Surviving to cherish her memories are her husband, Jack of 57 years; two sons, Jeff Yost and wife Joyce of Gans, PA and Steve Yost and wife Donna of Halleck Road; two grandchildren, Amy Yost of Cheat Lake and Joey Yost of Ashland, VA; three great grandchildren; one brother, Brent Cress and wife Judy of Morgantown; two sisters, Lynn Gribble and husband Terry of Morgantown and Debby Roth and husband Robert of Reedsville; two brothers in law, Russell Don Yost and Leon Yost and wife Linda and several nieces, nephews and cousins.
In addition to her parents she is preceded in death by one brother, Gary Cress; father in law, M.H. Yost; mother in law, Blendine Yost and sister in law, Loretta Jo Yost.
Friends may call at the Field Funeral Home in Masontown on Wednesday, January 2, 2019 from 3 to 8 p.m. and on Thursday, January 3, 2019 from 11 a.m. until the 12 noon service time with Pastor Randy Vincent officiating. Interment will follow in Mount Zion Cemetery in Masontown.
Condolences may be extended online to the family at www.fieldfuneralhome.com.