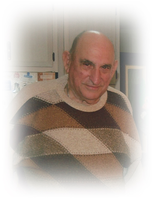 Theodore Joseph "Ted" Gregg
Theodore "Ted" Joseph Gregg, 78, of Masontown, WV, passed away Monday, December 24, 2018 at Ruby Memorial Hospital.
He was born September 19, 1940, in Masontown, a son of the late Ernest Gregg Sr. and Belinda Ann (Sunday) Gregg.
Ted grew up on the family farm just outside of Masontown and the love for farming continued with him throughout his life. He was a 1958 graduate of Masontown High School. He retired from Fort Martin Power Station after many years of service and was an active member of St. Zita Catholic Church in Masontown where he served on the Liturgy Committee, Summer Home Repair program and was a member of the Knights of Columbus. Ted served on the Masontown Cemetery Board, Masontown Sewer Board, and was a member of the Preston County FFA Alumni Association, Craft Committee at the PCEC and the Preston County Farm Bureau.
He is survived by his wife of 50 years, Lola Marie (Rexrode) Gregg; two daughters, Cindy Bouldry and husband Burt of Gaithersburg, MD and Melissa Dew and husband Terry Jr. of Masontown; three grandchildren, Matthew Bouldry, Catherine Bouldry and Olivia Mitchell; two brothers, Ernest Gregg Jr. and wife Terri of Oakland, MD and Philip Gregg and wife Janet of Masontown; two sisters in law, Mary Jo Gregg of Terra Alta and Carole Gregg of Oakland, MD and several nieces, nephews and cousins.
In addition to his parents, he was preceded in death by a brother, James Gregg.
Friends may call at the Field Funeral Home in Masontown on Thursday December 27, 2018 from 2-8 pm with a scripture prayer service at 7:30 pm. A Mass of Christian burial will be held 11 a.m. Friday, December 28, 2018 at St. Zita Catholic Church in Masontown with Fr. Andrew Switzer as celebrant. Interment will follow in the Masontown Cemetery.
In lieu of flowers, donations in Ted's memory can be made to Preston County FFA Alumni Association, 507 Galloway Rd., Bruceton Mills, WV 26525 or the Masontown Volunteer Fire Department, 362 Main Street, Masontown, WV 26542.
Condolences may be extended online to the family at www.fieldfuneralhome.com.