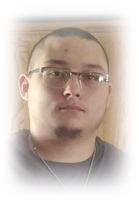 Jacob Daniel Snyder
Jacob Daniel Snyder, 21, of Reedsville, WV, passed away unexpectedly Wednesday, November 7, 2018.
He was born in Morgantown, on May 31, 1997.
Jacob attended Preston High School and was active in the Preston High ROTC program. He was a 2014 graduate of the Mountaineer Challenge Academy. He enjoyed outdoor adventures such as camping, fishing and hunting and always tried to make others laugh.
Jacob is survived by his mother, Bobbie Jo Snyder-Lewis and step father, Kenneth Ray Lewis of Reedsville; four sisters, Kayla and Jason McCrobie of Albright, Hayle Collingwood and Alex Pyles of Masontown, Paige Lewis and Brian Williams of Reedsville and Brittney Lewis and Dontaee Crosby of Cleveland, OH; grandmother, Norma Matheny; fiancée, Courtney Cupp; aunts and uncles, Angela and Burton Sprouse and Russell and Chrissy Snyder; three nieces; two nephews and many cousins.
He was preceded in death by his grandfather, Russell "Butch" Snyder.
Friends may call at the Field Funeral Home in Masontown on Saturday, November 10, 2018 from 12 noon until the 4 p.m. service time with Rev. Ray Frankhouser officiating. To honor his wishes he will then be cremated.
In lieu of flowers, donations can be made to Field Funeral Home, 10537 Veterans Memorial Hwy., Masontown, WV 26542, to help the family with funeral expenses.
Condolences may be extended online to the family at fieldfuneralhome.com.