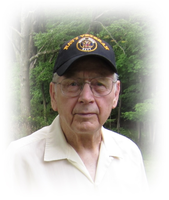 Robert Francis Mclaughlin, Sr
Robert Francis Mclaughlin Sr., age 93, of Reedsville, WV and formerly of Elyria, OH, went to be with the lord on Tuesday, October 9, 2018.
He was born on May 29, 1925 in Morgantown, WV, a son of the late Joseph Harvey and Nellie Jane Hall McLaughlin.
As a boy, his family moved to Arthurdale, WV as one of the original homestead families. When he was a senior in high school, he resided at the Arthurdale Inn where he worked on staff caring for government officials, including Eleanor Roosevelt.
He served in the US Navy in WWII as a Pharmacist Mate 2C, stationed at the US Naval Hospitals in New Orleans, LA and Portsmouth, VA. He also served on board the USS Xenia AKA-51.
He retired from York International in Elyria, OH after thirty-seven years of service.
He is survived by his sons, Robert McLaughlin Jr. (Wendy) of Arthurdale and Jeffrey McLaughlin of LaGrange, OH; five grandchildren, Tonya Cruz (Javier), Robert Wooley (Heidi), Michael Wooley, Stephen McLaughlin (Sarah), and Kyle McLaughlin (Shaina); several great grandchildren; one brother, Larry McLaughlin (Jan) of Franklin, WI; three sisters, Norma Turner of Woodland Hills, CA, Glenda Stump of Springfield, VA, and Linda Honchell (Kenny) of Springfield, OH.
Robert was preceded in death by his wife, Mary Emilee Brown McLaughlin; daughter, Lillian Evelyn McLaughlin; great grandson, Myles Jonathan McLaughlin; two brothers, Joseph McLaughlin and Paul McLaughlin; three sisters, Winola Martin, Lucille Lykins, and Annabel Menear.
Private services will be held at the convenience of the family. Interment will follow in the Bethlehem Cemetery. In lieu of flowers, donations can be made to WV Caring, PO Box 760, Arthurdale, WV 26520, or Arthurdale Heritage, Inc., 18 Q Rd, Arthurdale, WV 26520.
The family has entrusted Field Funeral Home in Masontown, WV with arrangements.
Condolences may be extended online to the family at www.fieldfuneralhome.com.