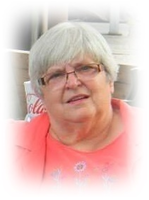 Judith Phillips
Judith Marie Phillips, 69, of Arthurdale, passed away Tuesday, October 9, 2018 at Ruby Memorial Hospital surrounded by her loving family.
Judith was born in Preston County, on July 20, 1949, a daughter of the late Harold Murray and and Hazel (Guseman) Murray Sazenski.
She was employed by Sterling Faucet and Visiting Homemakers.
Judith is survived by two daughters, Beth Horne and Charles of Morgantown and Tracy Goldstrom and John of Reedsville; five grandchildren, Christopher Sheets, Angela Sheets, Bryan Sheets, Carma Maier, and Cameron Radabaugh; six great grandchildren, Damien, Megan, Chloe, Beckett, Mason and Brooke; a sister, Barbara Gnegy of Lakeland, FL.
She was preceded in death by her husband, Tyrone L. Phillips; two sisters, Marianne Henderson and Nancy Murray.
The family has entrusted Field Funeral Home in Masontown with arrangements. To honor her wishes she will be cremated and a memorial service will be held at a later date.
Condolences may be extended online to the family at fieldfuneralhome.com.