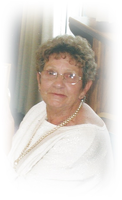 Sandra Lucille John
Sandra "Sandy" Lucille John, 78, of Masontown, said good night here, but good morning up there, on Friday, March 16, 2018 after losing her battle with cancer.
She was born in Cumberland, MD, on July 17, 1939, a daughter of the late Clyde and Bernice (Fetty) Campbell.
She enjoyed fishing, working in her garden and tending to her flower beds when she was able. Sandy enjoyed attending Pleasant Grove Baptist Church on Herring Rd. During the summer of 2015, Sandy was unable to attend church as often due to her health declining. To her surprise, the congregation came to her front yard and held Sunday services. Sandy said it was the greatest thing anyone had ever done for her.
Sandy is survived by her loving husband of 59 years, Harold John; son, Lonnie John of Rices Landing, PA; daughter, Linda Cobert Campbell of Sabraton; brother, Harold Campbell and wife Ellen of Mt. Morris, PA. and several nieces and nephews.
She was preceded in death by her younger sister and brother in law, Carol and James Gallion, and their baby son, Shawn Gallion.
Friends may call at Field Funeral Home in Masontown on Sunday, March 18, 2018 from 3 p.m. until the 8 p.m. service time with Pastor Mike Harriman officiating.
To honor her wishes she will then be cremated.
Condolences may be extended online to the family at www.fieldfuneralhome.com.