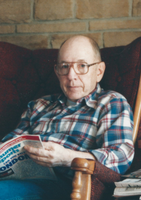 David Paul Radabaugh
David Paul Radabaugh Sr., 94, of Masontown, passed away Friday, April 6, 2018 at Pine Ridge Nursing Home in Kingwood.
Paul was born in Reedsville, on September 26, 1923, a son of the late Clarence Wayne Radabaugh and Mildred (DeBerry) Radabaugh.
He was a loving husband, father and grandfather. He retired from Monongahela Power Company after 32 years of service having worked at the Albright Power Station and later as a maintenance superintendent at the Fort Martin Power Station. He was a veteran of the US Army having served during WWII. He enjoyed photography, camping and squirrel hunting.
Paul is survived by his loving wife Connie McKinney Radabaugh; one daughter, Ann Radabaugh of Morgantown; two sons, Scott Radabaugh of Masontown and David Paul Radabaugh Jr. of Richmond, VA and two grandchildren, David Paul Radabaugh III and Alia Joyce Radabaugh both of Richmond.
In addition to his parents he is preceded in death by one sister, Helen Stemple; two brothers, Jackson Noel Radabaugh and Russell Radabaugh.
Friends may call at the Field Funeral Home in Masontown on Sunday April 8, 2018 from 2 to 4 and 6 to 8 p.m. Funeral services will be held 11 a.m. Monday, April 9, 2018 at the funeral home with Rev. Ray Frankhouser officiating. Interment will follow in Pleasant Grove Cemetery.
Condolences may be extended online to the family at www.fieldfuneralhome.com.