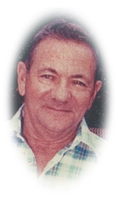 Carlton Trickett
Carlton Trickett, 85, of Independence Road died Saturday, March 17, 2018 at his residence in Preston County.
Carlton was born in Morgantown, on December 16, 1932, a son of the late Crayton Trickett and Anna Bucklew Trickett.
He served in the Army during the Korean War. He was employed as a heavy equipment operator for many years retiring from the Operating Engineers Local #132 after 54 years. He was a member of the Aurora Lodge #43 AF&AM Masonic Lodge in Newburg
He is survived by his wife Norma Lee Trickett; two sisters, Nellie Huffman of Jacksonville, FL and Sarah Huggins of Springfield, OH; one brother, Harlan (Jerry) Trickett of Morgantown; several nieces and nephews and his dog, Molly.
He was preceded in death by two sisters and two brothers.
Friends may call at the Field Funeral Home in Masontown on Wednesday, March 21, 2018, from 10 am until the 11 am memorial service with Pastor Sonny McNear officiating.
Military rites will be conducted by the Preston County VFW Honor Guard, WVANG Honor Guard, and the Preston County Vietnam Veterans of America Chapter 977.
In lieu of flowers, the family requests donations be made to Preston County Animal Shelter, 278 Poor Farm Rd, Kingwood, WV 26537
Condolences may be extended online to the family at www.fieldfuneralhome.com.