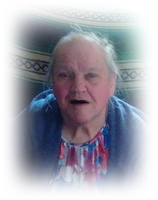 JoAnn Rhodes
JoAnn Rhodes, 77, of Tunnelton, passed away Wednesday, February 28, 2018 at Taylor Health Care Center in Grafton.
JoAnn was born on April 2, 1940, a daughter of the late Thomas Riley and Jessie (McCrobie) Riley.
She was a loving mother, grandmother, great grandmother and sister. She had worked as a caretaker for many years.
JoAnn is survived by a son Stanley Rhodes of Tunnelton; three daughters, Pam Rhodes of Tunnelton, Cheryl Deberry and husband Dave of Masontown, and Michelle Hudson of Inwood, WV; three grandchildren, Timmy Sanders and wife Brenda, Duane Rhodes and companion Alicia Sphar and Amanda Friend and husband Jonathon; four great grandchildren, Axton, Avia, Alexander and Alexis; a brother, Charles "George" Riley and wife, Kay of Topping, VA; a very special niece, Vicky Green; special friends, Brenda Cole and Charlotte Poling and her dog, Peanut.
She was preceded in death by a son, Randy Rhodes; two daughters, Connie Rhodes and Nancy Rhodes; three sisters, Betty Stull, Sue Keener and Virginia Green; four brothers, Edward Riley, Robert "Pooty" Riley, Guy Riley and Robert Riley.
Friends may call at the Field Funeral Home in Masontown on Friday, March 2, 2018 from 2-4 and 6-8 pm. Funeral services will be held at 1pm, Saturday, March 3, 2018 at the Field Funeral Home with Pastor Dave Biggins officiating. Interment will be in Mt. View Cemetery in Tunnelton.
Condolences may be extended online to the family at www.fieldfuneralhome.com.