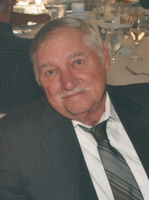 Martin Clay Wilson
Martin Clay "Pete" Wilson, Sr, 74, of Kingwood, WV passed away Tuesday, February 27, 2018 at his home with his loving wife by his side
He was born in Peach Bottom, PA on January 8, 1944, a son of the late Omer C. Wilson and Hassie Leota Quillen Wilson.
He was a loving husband and father. He retired from the Ocidental Chemical Company in Delaware after 37 years of service. He enjoyed spending time in Pocahontas County, WV with family and friends at the Orval McMillion homeplace.
Martin is survived by his wife of 32 years, Evelyn Kellison Cullum Wilson; one daughter, Theresa Riley; three sons, Martin Wilson Jr., Randy Cullum and Rick Cullum; one sister, Ruby Wyatt; seven grandchildren, Craig Hall, Amber Riley, James Riley, Jessica Cain, Jullian Cullum, Zach Cullum and Mandy Testerman and eight great grandchildren.
He was preceded in death by one sister, Nina Wilson and two brothers, John Wilson and Harl Wilson.
Friends may call at the Field Funeral Home in Masontown, WV on Thursday, March 1, 2018 from 3 p.m. until the 5 p.m. service time with Rev. Ray Frankhouser officiating. To honor Martin's wishes cremation services will follow.
The family would like to extend a special thank you to his special neighbors, Ray and Frances Stull for their help during this difficult time.
Condolences may be extended online to the family at www.fieldfuneralhome.com.