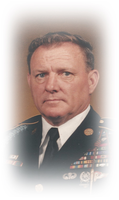 Alan M. ""Buck"" Taylor
Alan M. "Buck" Taylor, Command Sergeant Major US Army (Ret.), 82, of Masontown, passed away Sunday, February 4, 2018, at Ruby Memorial Hospital in Morgantown.
He was born in Rock Forge, on February 19, 1935, a son of the late Lawrence T. and Myrtle (Lowdermilk) Taylor.
He retired from the US Army. He served during the Korean War and Vietnam War and received numerous accommodations including, the Bronze Star Medal, Meritorious Medal, two Purple Hearts, Army Commendation Medal, Army Achievement Medal, National Defense Service Medal, Good Conduct Medal-9th Award, Army Service Ribbon, and the Vietnam Service Medal with three campaign stars. Buck was a member of VFW Post # 1589 where he held many offices including State Commander from 2004 to 2005. He was also a member of the Preston Lodge No. 90 A.F&A.M. for almost 50 years, the Shriners and the Eastern Star. He was the caretaker of the Mt. Zion Cemetery in Masontown for many years and served on the board. He was a longtime member of the Mt. Zion United Methodist Church. He loved his horses and spending time in the great outdoors but most importantly he was a family man.
Alan is survived by his wife, Mary Ann Taylor; four daughters, Sheri "Tabby" Fincher and husband Ron of Willow Springs, NC, Tammy Lynn Shifflett of Port St. Lucie, FL, Bobbi Jo Shultz and husband Neil of Connellsville, PA, and Betty Jo Taylor of Dallas, TX; three sons, Alan M. Taylor Jr. of Masontown, Lawrence P. Taylor of Masontown and Vernon Shifflett of Masontown; one brother, Lawrence W. Taylor of FL; one sister, JoAnn Goodson of OH; 18 grandchildren; 20 great grandchildren and one great-great granddaughter.
He was preceded in death by a daughter, Debbie Sue Taylor; two sisters, Mildred Dengg and Shirley Strahin and two granddaughters, Joy and Angel.
Friends may call at the Field Funeral Home in Masontown on Wednesday, February 7, 2018 and Thursday February 8, 2018 from 2 to 4 and 6 to 8 p.m. and on February 9, 2018 from 11 am until the 1 p.m. service time with Rev. Jim Weber and Dr. Ron Fincher officiating. Interment will follow in the Mt. Zion Cemetery. Military rites will be conducted by the Preston County VFW Honor Guard, WVANG Honor Guard, and the Preston County Vietnam Veterans of America Chapter 977. Graveside Masonic rites will be conducted by the Preston Lodge No. 90 A.F.&A.M.
Condolences may be extended online to the family at www.fieldfuneralhome.com.