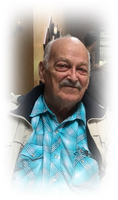 Dean Brewer
Dean Duane Brewer, Sr., 83, of Gladesville, passed away Tuesday, January 23, 2018, at home with his loving family by his side.
Dean was born in Morgantown (Browns Chapel), on April 8, 1934, a son of the late Burrous and Beulah (Summers) Brewer.
Dean was a wonderful and devoted Christian, husband, father, grandfather, great grandfather and good friend to all. Dean was a member of The Church of Christ in Gladesville. He had worked in the coal mines, sand plant at Browns Chapel and heavy construction. He was a member of the Carpenters Union Local # 604 in Morgantown. He enjoyed working on the farm and reading.
Dean is survived by one son, Dean Brewer Jr. and wife Brenda of Fairmont; two daughters, Cathy Mouser and husband Ricky of Gladesville and Linda Kay Brewer of Gladesville and fiance, Dana Ray Sanders of Tunnelton; four grandchildren, Diana Beegle and husband Randy, Elizabeth Mouser, Kelly Fike and Timothy Brewer and wife, Shauna; four great grandchildren, Kara Ellen Beegle, Randy Beegle, Jr, Levi Fike, and Wesley Brewer; two step great grandchildren, Zayne Casto and Zoe Casto; five sisters in law, Dorothy Friend, Jean Brewer, Marjorie Brewer, Jenny Brewer and Mary Brewer; and several nieces and nephews.
He was preceded in death by his wife, Clara Goff Brewer in 2008; four brothers, Richard Brewer, Robert Brewer, John Brewer and Francis Brewer.
Friends may call at the Field Funeral Home in Masontown on Friday, January 26, 2018, from 2-4 and 6-8 pm and on Saturday, January 27, 2018, from 11 am until the 1 pm service time, with Gene Kessel and Alan Williamson officiating. Interment will be in Gladesville Cemetery.
Condolences may be extended online to the family at www.fieldfuneralhome.com.