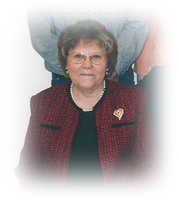 Iris Wyvone Hart
Iris Wyvone Hart, 83, of Masontown, passed away Saturday, January 20, 2018, at Ruby Memorial Hospital, with her loving family by her side.
Iris was born February 8,1934, in Brandonville, a daughter of the late Lorenzo Wayne Cartwright and Marybell Caton.
She was a loving wife, mother, grandmother, great grandmother and friend. She was employed at the Morgantown Shirt Factory for 40 years, a member of the First Baptist Church of Masontown and a member of the Masontown Volunteer Fire Department Auxiliary. She had a passion for her church, sewing, cooking, baking and working with the fire department auxiliary.
Iris is survived by her husband, Dennis Hart; a daughter, Debbie Born and husband, Donnie of Masontown; a son, Keith Hart and wife Tammy of Masontown; four grandchildren, Jeff Born and wife Kristi of Kingwood, Kelle Miller of Morgantown, Derek Hart and wife Katie of Masontown, Andrea Hart of Masontown and Chuck Miller of Morgantown; four great grandchildren, Chase Miller of Morgantown, Mason Born of Kingwood, Colleen and Emma Hart both of Masontown, and a sister, Joyce Howard of Pittsburgh, PA.
She was preceded in death by four brothers, Clifford, Robert, Ronnie and Irvin Cartwright; four sisters, Jenny Poe, Ellen Simeral, Margaret Lowdermilk and Evelyn Cartwright.
Friends may call at the Field Funeral Home in Masontown on Tuesday, January 23, 2018,
from 1-8pm. Services will be held on Wednesday, January 24, 2018, at 1pm with Rev. William Winston officiating. Interment will be in Pleasant Grove Cemetery.
The family would like to thank the Masontown Fire Department, Mon EMS and Ruby NCCU for all the great care and compassion shown in a time of need.
Condolences may be extended online to the family at www.fieldfuneralhome.com.