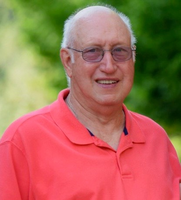 Otis Carl "Sam" Radabaugh
Otis Carl "Sam" Radabaugh, 73, of Masontown, passed away Wednesday, January 17, 2018 at Ruby Memorial Hospital.
Sam was born in Masontown on June 18, 1944, a son of the late Warren Harding "Peck" Radabaugh and Betty W. (Cale) Radabaugh.
He retired from Jennmar after 35 years of service. He served his country in the US Army during the Korean Conflict. He loved riding his Harley, walking the trails, camping, traveling with family and spending time with his grandchildren.
Sam is survived by his wife Deborah Darlene Collins Radabaugh, two daughters; Cheryl Fisher and husband Steve of Westover and Carol Bauserman and husband Shannon of Uniontown, PA; five step children, Rena Ries and husband Jim of OH, Cindy Yarnell of OH, Eddie Highben and wife Carole of OH, Amanda Karolcik and husband John of Morgantown and Richard Boggs Jr. and wife Brandy of Morgantown; six grandchildren, Chauntelle Radabaugh and companion Jason Lambert of Reedsville, Dakota Statler, Macie Bliss, Alex Boggs, Olivia Boggs and Ashton Boggs all of Morgantown; three great grandchildren, Briston Lambert, Paisley Lambert and Lynndsey Lambert; one brother, Clarence "Will" Radabaugh and wife Elsie of SC; three sisters, Linda L. Sanders and husband Robert of Morgantown, Georgie Myers and husband Edward of Reedsville and Wanda Yeager of Morgantown; brothers and sisters in law, Rosey and Nelson Statler of Morgantown, Penny and Earl Sims of Morgantown, Janet and Kevin Bierer of Morgantown, Gene and Bonnie Collins of Morgantown, Danny and Sandy Collins of OH, David Collins of Morgantown, and Robbie and Linda Collins of Morgantown; several nieces and nephews and several step grandchildren.
He was preceded in death by his wife, Anna Radabaugh; one sister, Frances Sue Shaffer; three brothers in law, Gary Radabaugh, Jim Yeager and Frank "Sonny" Shaffer; one niece, Trudy Nicholson and two nephews, Robert "Boat" Shaffer and Jim Shaffer.
Friends may call at the Field Funeral Home in Masontown on Saturday January 20, 2017 from 2 until the 6 p.m. service time with Pastor Kelly Gamble officiating.
To honor his wishes he will then be cremated.
Condolences may be extended online to the family at www.fieldfuneralhome.com.