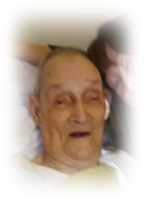 Keith Roby
Keith Roby, 89, of Kingwood, passed away Tuesday, January 9, 2018 at home.
Keith was born in Morgantown, WV on March 22, 1928, a son of the late Earl and Lemma (Holmes) Roby.
He served in the US Army during the Korean War where he received the Korean Service Medal with one bronze star and the United Nations Service Medal. He was employed by Daughtery Coal Company for several years.
Keith is survived by a daughter, Belinda Cole of Kingwood; one son, Kenneth Roby of Gladesville and several grandchildren and great grandchildren.
He was preceded in death by several brothers and sisters.
Friends may call at the Field Funeral Home in Masontown on Friday January 12, 2018 from 2 to 4 and 6 until the 8 p.m. service time with Pastor Marty Turner officiating.
Interment will follow at a later date in the WV National Cemetery in Pruntytown, where military rites will be conducted.
Condolences may be extended online to the family at www.fieldfuneralhome.com.