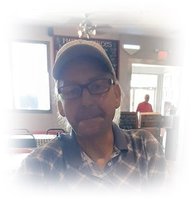 David Schauffner
David Schauffner, 62, of Masontown, WV, passed away due to complications from lung cancer on Friday, December 30, 2017 at his home.
Dave was born December 23, 1955 in Cleveland, Ohio, a son of the late Hazel Blanche Schauffner and John Alfred Schauffner.
He worked as a sheet metal mechanic for many years. After retirement, Dave became a consummate Mountaineer football fan. With a beer in his hand and faithful Buster by his side, he never missed a game. He also enjoyed bow hunting, playing guitar, and hunting ginseng. Dave always offered a sincere smile and encouragement to his loved ones. His kindness and uniquely optimistic perspective on life is forever imprinted on the hearts of those who loved him.
He is survived by his two daughters, Enis Fox-Schauffner and her wife, Holly Fox-Schauffner and April Weaver and her husband Wesley Weaver, as well as six grandchildren, Amber Metheny, Kishia Metheny, Paige Greenfield, Rune Greenfield, Angel Weaver, and Kadence Greenfield. Dave also leaves behind his two best friends and confidantes; his dog Buster, and his best friend, Roger Lewis.
In addition to his parents, he was preceded in death by two brothers, Alfred Schauffner and John Schauffner and one sister, Billie Jean Schauffner.
Friends may call at the Field Funeral Home in Masontown on Wednesday, January 3, 2018 from 5 p.m. until 6:30 p.m. at which time there will be a reflection of David's life and a time for sharing memories.
Memorial donations may be made to Pet Helpers at https://www.pethelpersinc.org/ in lieu of flowers.
Condolences may be extended to the family at www.fieldfuneralhome.com