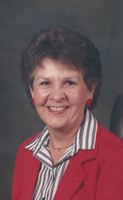 Velma Zuccari Ferrell
Velma Zuccari Ferrell, 89, of Masontown, passed away Wednesday, December 20, 2017 at her daughter's residence in Fairmont with her loving family by her side.
Velma was born in Masontown, on January 21, 1928, a daughter of the late Augusto and Bertha V. Smith Zuccari.
She was a graduate of Masontown High School and a member of the Masontown United Methodist Church where she was a Sunday school teacher, pianist and choir director for over 40 years. She was also a member of the Masontown Federated Women's Club, Cinderella Club and the United Methodist Women. She enjoyed square dancing and crafts.
Velma is survived by her daughter Beverly Slagle of Fairmont; two grandchildren, Matthew Slagle and wife, Whitney of Fairmont and Haley Slagle of Morgantown; three great grandchildren, Kylie Ann, Paige Noelle and Alex Matthew; a brother, George Zuccari and wife, Jean of Ocala, FL; several nieces and nephews and a special niece, Kay Dawson Young of Glen Burnie, MD.
She was preceded in death by her husband, Eugene Ferrell in 2009; three brothers, Elbert Zuccari, Francis Zuccari and Harry Zuccari; four sisters, Marlene Pantalone, Ruth York, Adeline Dawson and Evelyn Murphy and a son in law Steve Slagle.
Friends may call at the Field Funeral Home in Masontown on Friday, December 22, 2017 from 4 to 8 pm and on Saturday, December 23, 2017 at the Masontown Methodist Church from 10 until the 11 a.m. service with Rev. Sam Starling and Rev. Larry Buckland officiating. Entombment will follow at the Sunset Memorial Gardens.
In lieu of flowers, donations can be made in her memory to the Masontown Methodist Church, P.O. Box 356, Masontown, WV 26542.
Condolences may be extended online to the family at www.fieldfuneralhome.com.