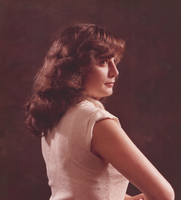 Robin Lynn Blaney
Robin Lynn Blaney, 54, of Masontown, WV, passed away Wednesday, September 20, 2017 at Ruby Memorial Hospital following a courageous battle with cancer.
Robin was born in Morgantown, WV on January 8, 1963, a daughter of Calvin and Hazel (Greathouse) Wolfe of Masontown.
She was a devoted Christian and was strong in her faith. She was very proud of her children and adored her grandson Jaxon. She was a 1981 graduate of West Preston High School, received her bachelor's degree in business administration from WVU and obtained her CPA certification. She loved to read, camp and travel, especially to the beach and above all spend time with her family. She was employed by Preston Memorial Hospital for 31 years where she held many positions (from switchboard operator, controller, assistant administrator and CFO and lastly the director of revenue). She was dearly loved and respected by her employees.
In addition to her parents Robin is survived by her loving husband of 34 years, David Blaney of Masontown; son, Shawn Blaney of Masontown; daughter, Jennifer Blaney of Morgantown; grandson Jaxon Blaney; brother, Ricky Wolfe and wife Sandra of Reedsville; sister, Sheila Golden and husband Johnny of Tunnelton; nieces and nephew, Bethany Wolfe, Jason Golden and Stacey Golden; great niece and nephew, Austin and Serenity Wolfe and their mother, Stephanie Wolfe; a brother in law, Joseph Blaney; a sister in law, Charlene Everly. She is also survived by her dog Molly who provided her much comfort.
She was preceded in death by her grandparents Wesley and Effie Wolfe and Sally and Ronald Greathouse and mother and father in law Doris and Joseph Blaney and nephew Kenny Wolfe.
Friends may call at the Field Funeral Home in Masontown on Saturday September 23, 2017 from 3 to 5 and 7 to 9 p.m. and on Sunday September 24, 2017 from 12 noon until the 2 p.m. service time with Rev. Dr. David Spence officiating and Dennis Lusin ACPE Hospital Chaplin Resident. Interment will follow in the Mt. Zion Cemetery in Masontown.
The family would like to extend a special thank you to the Preston Memorial Hospital Home Health Services staff especially Megan Hovatter and the many friends, family, co-workers, and strangers for the cards, phone calls, visits and prayers.
Condolences may be extended online to the family at www.fieldfuneralhome.com.