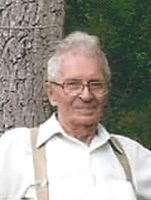 Calvin O. Gamble
Calvin O. Gamble, 93, of Kingwood, passed away Tuesday, September 19, 2017 at Pine Ridge Nursing Home in Kingwood.
Calvin was born in Gamble Hollow, Masontown, WV, on May 14, 1924, a son of the late Russel Van Gamble and Minnie May Neff Gamble.
Calvin was a loving husband, father and grandfather. He was employed by Sterling Faucet Company for over 30 years. He proudly served his country during WW II in the US Army and was a lifetime member of the Masontown VFW Post #1589.
Calvin is survived by one daughter, Eloda Gamble Zinn and husband Ronnie of Kingwood; one granddaughter and "grandpaps pride and joy", Melanie Zinn of Kingwood; two sisters, Myrtle Calvert of Kingwood and Dolly Cale of Masontown; one brother, Wayne "Pete" Gamble of Masontown, 24 nephews and 16 nieces.
He was preceded in death by his loving wife Alma Cale Gamble on February 29, 2008 and eight sisters, Dorothy Taylor, Frances Cale, Maxine Hawley, Murle Ennix, Opal Cale, Stella Sanchez, Jean Stull and Jeanette Stull; three brothers, William Gamble, Dallas Gamble and Cecil Gamble; five nephews; seven nieces and mother and father in law, Charles Wesley Cale and Elfie Shaffer Cale.
Friends may call at the Field Funeral Home in Masontown on Thursday, September 21, 2017 from 7 to 9 p.m., Friday September 22, 2017 from 3 to 5 and 7 to 9 p.m. and on Saturday, September 23, 2017, from 10am until the 11am time of service at the Mt. Zion Church with Rev. Gary Thomas, Pastor John Wagner and Pastor Jim Weber officiating. Interment will follow in the Mt. Zion Cemetery. Military rites will be conducted by the Preston County VFW Honor Guard, WVANG Honor Guard, and the Preston County Vietnam Veterans of America Chapter 977.
The family would like to extend a special thank you to the staff of Pine Ridge Nursing Home, the Rehabilitation Department staff, Dr. Mike Schwarzenberg, WV Caring, friends Elmer and Dixie and Dora Nicholson and Mary Gamble.
Condolences may be extended online to the family at www.fieldfuneralhome.com.