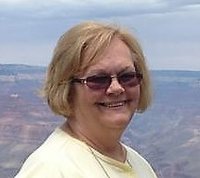 Katherine Virginia Eble
Katherine Kephart Eble,
70, of Morgantown, died Saturday September 16, 2017 at St. Lukes, Monroe Campus, in Bartonsville, PA.
The daughter of the late William B. and Lucille Johnson Kephart, she was born October 10, 1946 in Tunnelton, WV.
She was a loving mother and grandmother.
She is survived by a daughter and spouse, Deanna and Richard Mayers, of East Stroudsburg, PA; a son, Kevin Eble of Columbus, OH; three grandchildren, Mark, Ashley and Elizabeth Mayers; a special niece and nephew that she helped raise, Chad and Melissa Radcliff; and an uncle that she was caring for in her home, Hob Uhrich.
In addition to her parents, she was preceded in death by a sister, Brenda Radcliff Short.
Family and friends will be received at the Field Funeral Home, Masontown on Friday from 2-4 and 6-8 and from 10:00 am on Saturday, September 23, 2017 until the 11:00 am time of service with Pastor David Petitt officiating. Burial will follow in the Masontown Cemetery, Masontown,WV.
Condolences may be extended online to the family at fieldfuneralhome.com