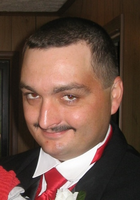 Richard Leroy "Rich" Strahin
Richard "Rich" Strahin Jr., 42, of Masontown, passed away from complications of diabetes on Saturday, August 19, 2017.
He was born March 22, 1975 in Morgantown, a son of the late Richard Strahin Sr. and Sherry Ellison Strahin of Masontown.
Rich was a 1993 graduate of Preston High School. He enjoyed the outdoors and spending time with family and friends, especially fishing with his children, that were his pride and joy and the loves of his life.
In addition to his mother, he is survived by a daughter, Katelynn Strahin; a son Garrett Strahin; two sisters, Donna Tennant and husband Doug of Arthurdale and Debbie Wagner and husband Orson of Reedsville.
In addition to his father, he is preceded in death by his maternal grandparents, Delbert and Gussie Ellison and paternal grandparents, Charles and Margaret Strahin.
Friends may call at the Field Funeral Home in Masontown on Tuesday, August 22, 2017 from 5 to 9 p.m. Funeral services will be held 11:00 a.m., Wednesday, August 23, 2017 at the Field Funeral Home with Pastor Brian Long officiating. Interment will follow in the Morgan Cemetery in Reedsville.
Condolences may be extended online to the family at www.fieldfuneralhome.com.