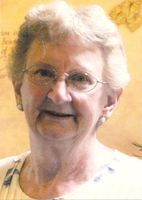 Deloris Irene Rankin
Deloris I. Rankin, 85, of Arthurdale, passed away Thursday, August 10, 2017 at her home.
Deloris was born in Fellowsville, on July 29, 1932, a daughter of the late Beryl and Leta (Murphy) Sigley.
She was a Christian by faith and loved to sing hymns. Deloris graduated from Fellowsville High School, where she was a cheerleader and class valedictorian. She retired as an administrative assistant after 25 years. She was not only a homemaker, but a secretary, bookkeeper, clerk and treasurer. She was a graduate of the Clarksburg Business College, completed several classes at WVU and off-campus classes at Fairmont State College. She was a Girl Scout leader, Buckwheat princess, member of the Order of Eastern Star, youth and adult Sunday school teacher, board member of PSD #1, Vice President and Treasurer for Preston County Habitat for Humanity, a member of the Womens Singles Group, a food pantry worker, Treasurer of Mt. Israel Cemetery Association and an AARP tax program volunteer.
Deloris is survived by a son, James B. Rankin and wife Lori of Arthurdale; two daughters, Stephnie Schoenleber and husband Marty Jr of Rock Hill, SC, Daphne Barlow and husband David of Reedsville; a brother Neil Sigley of Fellowsville; a sister Ocie Sigley of Westminster, MD; seven grandchildren, Zacharia Barlow and Abbie Barlow both of Reedsville, Meredith Aldrin, Marty Schoenleber III, and Aubre Schoenleber all of Illinois, Trinity Rankin and Celeste Rankin both of Arthurdale; two great grandchildren, Ellie and Owen Aldrin.
She was preceded in death by her husband Don James Rankin on June 9, 1979; a brother, Tommy Joe Sigley, who was killed serving his country in Korea on July 26, 1952 and a sister-in-law, Phyllis Sigley who passed away on December 23, 2005.
A visitation will be held at the Field Funeral Home in Masontown on Saturday, August 12, 2017 from 6-8 pm.
A private graveside service will be held at the Mount Israel Cemetery.
A celebration of her life will be held on Sunday, August 13, 2017 at 1:00 pm, at the Christian Evangelical Church in Reedsville (Birds Creek) with the Pastor Marty Schoenleber Jr. officiating. A dinner will follow.
Condolences may be extended online to the family at www.fieldfuneralhome.com.